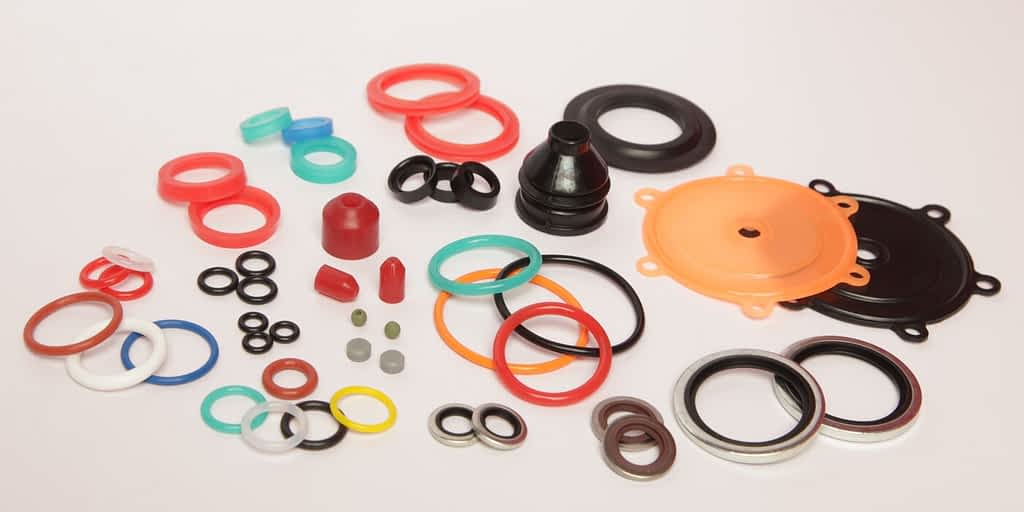 Designing a rubber part means taking multiple requirements into consideration. A design engineer wants to get the part that will work in their assembly. Purchasing Managers want to make sure they can meet the timetable and get the most cost-effective part. The quality engineer needs all the documentation to satisfy quality standards and information to pass regulatory reviews. Designing the ideal rubber part for all the industrial applications, there are several rubber product design features worth bearing in mind. Here are five ways to make sure that part will meet those requirements and get to market on time.
1. Using The Right Material
With new material regulations being introduced, making sure you have the right material is critical. Many design engineers use common rubber sealing material in prototype concept work. It's the easiest to get and they may believe all rubber materials are the same. Before the product goes to market, a company's regulatory department may find the material not acceptable or requires a high level of testing to determine if the material is qualified for use. 
Letting a rubber molder know about what material is going to be used in a particular application will allow the molder to select the correct material. This will help streamline compliance and may eliminate future testing if the material is already tested. Rubber compounds are typically made up of 20 or so individual ingredients, compared with plastic compounds that might only have three or fewer. Formulating rubber products requires an extensive review of these ingredients, including the purity level of each. To know more about choosing the right material check our material selection guide-
http://www.kesaria.com/how-to-choose-which-rubber-is-best-for-my-application/
2. Evaluation Of Chemical Compatibility
No rubber material is perfect. When designing the perfect sealing product It's important to use the right material to match the application & the environment in which it will operate. When working with chemical substances we majorly face challenges in handling & processing of various chemical substances. Hence, it is very important to check the chemical compatibility of these substances & select the most appropriate elastomeric material that can withstand any type of environment & media therefore we would recommend a range of chemical resistant materials such as NR, SBR, NBR, CR, EPDM, HNBR, ACM, CSM, Silicone & FKM (Viton) with our technical experts to guide you in selecting the right material as per your application.
3. Review Of Hardness In Rubber Compound  
Shore Hardness measures the resistance a material has to indentation. The Shore durometer is used to compare & measure the hardness of a material, typically of polymers, elastomers & rubbers using a spring-loaded steel rod by compressing the surface of the material. A shore hardness of 0 equates to the maximum amount of indentation possible, while A shore hardness of 100 is indicative of an extremely high resistance to indentation. To know more about hardness of your product check out our hardness comparison chart-
http://www.kesaria.com/products/o-rings/
4. Observe The Permissible Tolerances
It is essential to observe the rubber tolerance in your design process as almost all the elastomers undergo a certain degree of shrinkage. The ingredients in a rubber formulation are mixed at a given tolerance. This can cause variations in the amount of shrinkage from batch to batch. In addition, molds are heated. The tolerance on a mold temperature profile can also cause shrinkage variations apart from these other factors are like tool design, geometry, hardness etc. are also responsible for shrinkage hence considering all these factors it is important to get a guidance at the earliest stage from our technical experts to ensure the most optimum solution for your particular application requirement. 
5. Review The Geometry To Avoid Stress / Strain
Determining the geometry is very essential to check viscoelastic properties, stress-strain properties, rebound resilience & tear strength of rubber raw materials as it includes essential chemical-analytic and physical structure of carbon atom also called geometric factor i.e. highest possible level to bear stress. The simpler and more symmetrical the geometry of your design, the easier it will be to produce. It is worth bearing in mind that complicated geometries can often cause stress to the product that in turn could decrease it's durability hence causing the product to be less durable & only for a shorter period of time.
With a little work during the design phase, rubber parts can have a smooth sailing right through production. We make sure our customers get the perfect product as per their application requirement to achieve their business goals.
At Kesaria Rubber, we have spent decades developing innovative elastomer materials which are capable to resist the most challenging sealing environments. We request you to please check our product range. If you would like further assistance, please contact our Sealing Experts who will be happy to help, diagnose the problem and suggest possible solutions.
Please provide your Specific Application requirements and get in touch with one of our
Experienced Technical Experts at Kesaria Rubber through Call at +91 971811 7575
or email to info@kesaria.com and sales@kesaria.com
Kesaria Rubber will be Happy To Help You !!!