EPDM or Ethylene Propylene Diene Monomer is a family of synthetic elastomers with lower cost, steam and chemical resistance, particularly for applications involving sealant, solvents, acids and other mild chemicals. It is a complex yet inexpensive rubber that has a wide range of uses. It is commonly used in roofs for waterproofing, as EPDM seals very nicely. It is also a common material for freezer room seals, as it is an insulator and has excellent low temperature tolerance. It is most commonly used in Plumbing, Electrical, Automotive and Construction Industries.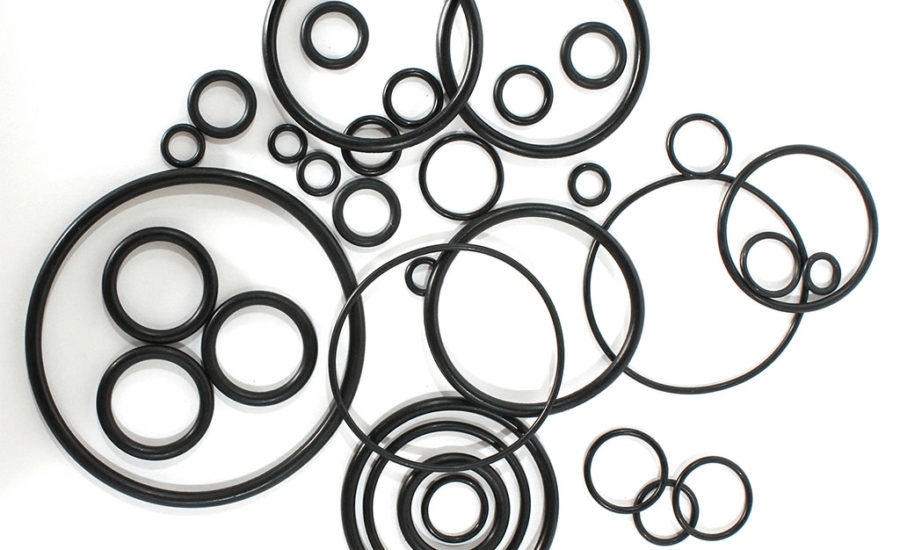 Types Of EPDM Rubber ORings – During the manufacture of EPDM, the compound can be cured with either sulphur or peroxide. The choice of curing method is determined by the end-use and application.
Sulphur Cured EPDM ORings – Sulphur curing of EPDM is more common, more readily available, and generally more commercially attractive. Sulphur cured ORings have higher tensile strength & tear strength. Sulphur cured EPDM ORings can resist temperatures up to 120°C (250°F).
Peroxide Cured EPDM ORings possess a superior chemical & thermal resistance compared to sulfur cured. Peroxide curing also improves the compression set and aging resistance of the Components. Peroxide cured ORings are used in hot water, steam, alcohols, ketones, engine coolants, organic and inorganic acids and bases. Peroxide cured EPDM ORings can withstand temperatures up to 150°C (300°F).
PTFE Coated EPDM ORings are dry to touch, providing excellent adhesion and friction properties compared to traditional ORings. PTFE Coated ORings do not rub off easily, comes in a wide array of colors & does not leave behind visible residue. PTFE Coated ORings are helpful in the lubrication, corrosion protection, extended component life, cleanliness, color identification & easy installation.
Mechanical Properties
Good Compression Set
Good Heat Stability
Fair Shorter Term Resilience
Good Wear Resistance
Good Permeation Resistance
Excellent Electrical Insulation
Temperature & Hardness Range
Temperature Range : -60°F to +300°F (-51° to +150°C)
Hardness Range : 40 to 90 Shore A
Applications Of EPDM ORings
Automotive Brake systems
Automobile Cooling Systems
Door, Window & Trunk Seals
Water & Flow Pumps
Plumbing Pipes & Fittings
Door Window Profiles
Thermostats
EGR Valves
EGR Coolers
Heaters, Oil Coolers & Radiators
Medical Devices
Electronic Appliances
Solar Panels
At Kesaria Rubber, we have spent decades developing innovative elastomer materials which are capable to resist the most challenging sealing environments. We request you to please check our Material Selection Guide which will help you in choosing the appropriate material for your application. If you would like further assistance, please contact our Sealing Experts who will be happy to help, diagnose the problem and suggest possible solutions.
Please provide your Specific Application requirements and get in touch with one of our Experienced Technical Experts at Kesaria Rubber through Call at +91 971811 7575 or email to info@kesaria.com and sales@kesaria.com
Kesaria Rubber will be Happy To Help You !!!